Know About
Smiling Tusker Elephant Camp
Owing our place to the eco-friendly mindset from the days of the past, we wished to create a little fun corner for the guests that also serves our purpose of rehabilitation of unemployed elephants along with community based eco-tourism.
The typical Assamese Asiatic elephants are finally rejoicing their service. With this mentality during inception, we decided to expand and make it a little more about you but with ecotourism in mind. Smiling Tusker Elephant Camp is established as a unique adventure and natural ride as an ode to reconnect and recharge with environment. The classic camping concept and a locally dominated atmosphere of staycations is what makes us stand out as an ideal getaway. Outlined by the stunning views of tea estates, lush greenery, and the very famous Manas National Park, our camping shelter itself is a tourist spot and we are all about nature. Be it late night bonfires or early morning peafowl chitters; the overwhelming state of mind is constant while your stay with us.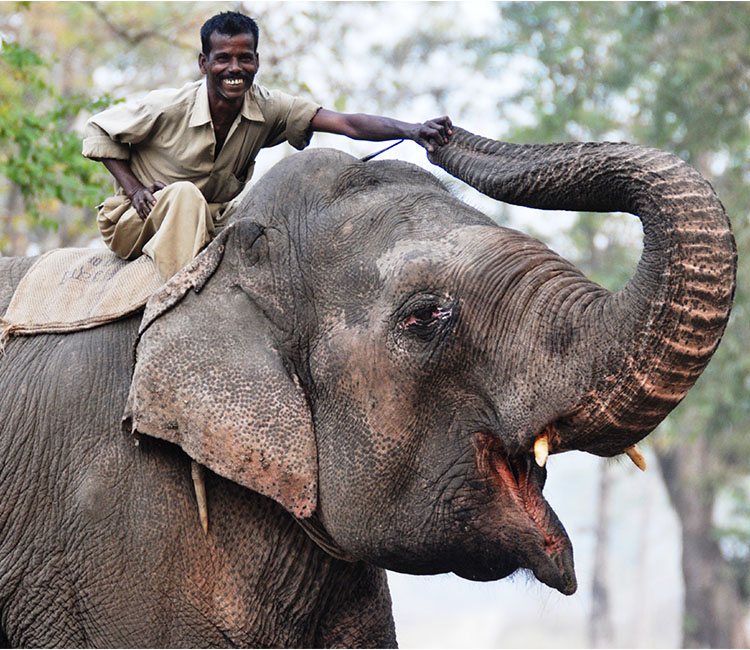 Our
Mission
The camp was established by a group of like-minded people, in order to generate funds to support this activity and is located just beside the core area of Manas Tiger Reserve, bordered by lush tea gardens, tiny water bodies and neighbouring villages. An ideal setting in the midst of endearing rusticity.
Our
Vision
As a bunch of environmental-friendly squad and as the name suggests, our objective is quite clear. We aim at the reframing of our community beliefs by bringing Asiatic Elephants back into life along with indulging into activities that bring out our true connection with the nature.
Camp Rules
Some rules and important information about our camp :
Bringing of valid original ID and address proof is mandatory for each individual.
Our camp is an eco-camp, we use limited electricity.
Outside food is not allowed (Please don't bring any kind of packed food or drink also such as chips, juice, cold drink bottle etc which contribute increasing the plastic waste)
Amplified/loud music is not permissible.
Smoking Strictly prohibited inside or nearby tent area.
Roaming outside the campus without permission is not allowed.
While entering the National Park, one has to follow the mandatory rules and guidelines of the Park.
Check-in time 01:00 pm.
Check-out time - 11:00 AM.
Dinner timings- 7:30 pm to 09:30 pm.
Campfire timing- 06:00 pm to 09:00 pm.
We don't serve alchohol.
One must follow the mandatory Covid19 protocols.
Payment Terms:
50% of the total amount to be paid in advance for the booking confirmation.
The balance amount to be paid one week before the arrival.
Refund Policy:
Full refund - if the cancellation is done 15 days prior to the scheduled date of your stay in the resort.
Fifty percent (50%) refund - if the cancellation is done 7 days prior to the scheduled date of your stay in the resort.
No refund - if the cancellation is done within the last 7 days of the scheduled date of your stay in the resort.